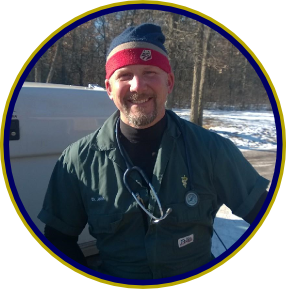 Dr. John grew up in eastern Iowa on a beef and crop farm. He received his Bachelor of Science degree in Animal Ecology/Behavioral Ecology and his Doctor of Veterinary Medicine both from Iowa State University.
John practiced in Corvallis, Montana and Reading, Pennsylvania at mixed animal veterinary clinics for several years after graduating from vet school. For nine years, he was a partner in a large animal practice in eastern Wisconsin. After his stint in veterinary practice he taught for a period at Iowa State University, before returning to veterinary practice in 2010.
John's interests include camping, fly fishing, canoeing/kayaking, oil painting, cross country skiing, and spending time with his family.